I know what you're thinking, no I don't. But that's ok, cause most likely, neither do you. So it's win win, as are much of today's videos. Today we learn the dangers of Hi Fives, Meet a new Captain America, learnt he value of American Top Gear and much much more!
UCB Comedy – The Dangers of High-Fives
UCB is back with original content, in the form of a public service announcement ala 1970's style educational videos. This great PSA about the dangers of Hi fives, Hand Slapping, and Slappin' Cheese is one or the better videos UCB has promoted recently. Starring the domesticate Parks n' Recreation lioness Lennon Parham This sketch teaches you when, and more importantly when NOT a Hi Five is acceptable.
Sadly, I think I've been doing it wrong. Damn. Jeff Foxworthy should have done a stand up routine informing people "You know you're a douchebag when…" Then I may have know better!
FunnyJunk – American Top Gear?
Once again, the community for *12 year olds, by 12 year olds – proves that all it takes to be on the front page, is boobs… or um.. in this case just a big pie chart. Which is like one big boob.
*Data unconfirmed
Atom Films – Hollywood Meetings: Captain America
After a minute of setting up the 'Worst Agent ever' character, this sketch sets in motion a Bad Agent and Ultra Straight Guy, overly self aware Iranian actor dynamic that doesn't push to far on the constrains of believability (with in that). But it leaves you wanting some big pay off that almost, but never comes. Actually at the very end there's an oddly disturbing production graphic that might just be the weird pay off some of you were looking for. While not Laugh out Loud amaze-balls, it's entertaining enough to not feel like you want all of your 4:14 mintues back.. but maybe 2 of them.
PS – I said Amaze-balls, eat some of that Baklava.
WebComics
Today on Married To The Sea: mr barky and the drums
Today on xkcd: Standards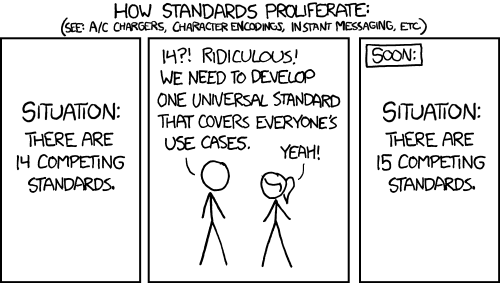 Today on explosm: 6 pack
Youtube – 4,000,000 Subscribers!
One time #1 youtuber nigahiga Hits 4 Million youtuber subscribers. To thank his viewers for their support he posted this personal vlog and sells out by trying to sell his own Merch (which we'd all do in a heartbeat. So deal with it *Sunglasses on*) Congrats from Crave to Nigahiga, here's to 4 million more and our cut of the profits 😉
Funny Or Die – Kobe Bryant on the NBA Lockout
James Davis Takes on the role of a very lethargic Kobe Bryant (Sidenote: we both went to the same highschool, so it's like we're both kicking it… or something). I'm gonna say this is not 'my video' there's little to nothing that appeals to me, though I did chuckle a bit to the Kobe Faces. And so far with 17K views it's maintained and 84% funny rating (which is extremely good for a FoD video). So enjoy some of this Monsta' video.
That's the funny for July 20th, featuring all that's featured so you don't have to open 50 tabs in your browser. Now sit back, relax and rest that bowl of cool ranch flavored Doritos on your gut. Enjoy and pizza out! Mmmm pizza.